Hello everyone out there in blog world!! Hope everyone has had a wonderful Thanksgiving!!
I am slowly getting my Christmas decor up and wanted to do a post with some pictures from around the house and some recent Goodwill finds! Onto the good stuff! ;-P
My Willow Tree nativity this year is on top of my bookshelf in the living room.. I only need one more piece to complete the set, then I just need the creche for it. I am thinking about asking for both of those for Christmas this year so that I can have it all completed.
Tree is up, but not fully decorated (please excuse the mess of video game crap underneath the television -_-)
Part of my snowman collection, I have a couple more I just haven't found them in my boxes of stuff yet.
Some of my other Willow Tree pieces that had to be rehomed because of my Christmas Village.. I figured i'd get a picture of them all while they were all together.
My small/beginner Christmas Village. Every piece here I got from either Goodwill or yard sales. In fact I believe I got two or three of the houses and all of the signs, people, bridge, gazebo from the same lady at a community yard sale over the summer, I think I only payed $5 for everything I got from her. The one piece doesn't match the others, but my village is so small still.. it's my "hodge podge village"! lol
Surprisingly.. the cats have NOT messed with it.. YET.. Ace layed on the snow before I put any of the houses up but that was it.
My plate from Yankee Candle. I love this plate I had to have it when I saw them putting it out at the store.
My new Goodwill find today.. again it doesn't match my village, in fact its not even Lemax but I loved that it says "candle shop" which fits right in with my candle addiction so I had to get it. and it was only $.99
Books that I picked up today at Goodwill $.99 a piece!
Two cutie pie ornaments (ok so this is the second santa.. I lied)
a book from my last goodwill trip.
Bird cage from Goodwill only $.99 .. I am not positive what I want to do with this one yet.. Do I want to paint it or keep it this color.. I do think the little birdie inside on the swing is cute but Id like to be able to fill it with stuff, so i think I am going to try to take it off in a way that I can put it back on if I want it on.. I think this would be cute with some Christmas balls in it!
another house for my Bunny Village for Easter time!
Picture frame and an espresso sign for the kitchen
I debated this one for quite some time while I was in the store but eventually I gave in and she came home with me!
Precious Moments ornament I believe this was only $.99 which you can't beat for anything Precious Moments!! I have a collection of Precious moments figurines so this fits right in.
Yankee Candle tart burner for only $1.99... I like my electric ones and the ones with the removeable bowl but for $2 I couldn't pass it up, this will be perfect for the guest bathroom!
My mail freebies for the day!!!
I got my free scotch brite scrubber and a coupon with it (not the greatest coupon ever, but oh well.)
Ok guys, I am signing off for now, Just wanted to give you all an update! :)
Linking up with: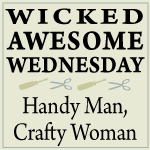 ""/>